Before Connect to the console:
Follow the attachment step from Basic Tutorial 01: the attachment and disassemble of ARMORX & ARMORX Pro.
Waiting wireless adapter: the left LED1 of ARMORX will blink.

Connect the PS4 controller to the bottom of wireless adapter with a C to A USB cable.
*Notice: The ARMORX uses HYBRIDto EXPANDED CONNECTIVITY TECHNOLOGY to support the PS4 platform. The PS4 original controller is a must-need.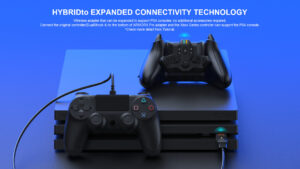 Connect to PS4 console: Plug the adapter into the console's USB port and the connection will automatically succeed
Plug the wireless adapter into the USB port of the consoles (For a better signal, we highly recommend you plug the adapter into the front panel).
After the wireless adapter connects to ARMORX the LED1 of ARMORX will be always on and the indicator of wireless adapter will be always on with blue.
Press the home button of Xbox Series controller and the connection is done.
Why the indicator of wireless adapter changes with platform
The indicator of wireless adapter will identify the console and the color of indicator shows the working mode.
PC, Xbox mode: Orange   Switch mode: Red   PlayStation mode: Blue
If the indicator shows white it means the adapter can not identify the console need to replug.