The way to set on-board profiles
Setting on controller: Set by combining buttons.
Setting on APP: Edit the configuration on the APP and apply it on ARMORX pro(Only ARMORX pro support APP).
Relationship between APP profile and on-board profile:

The profile set on the controller can not be read to APP.
The profile set on the APP can be applied to the controller at any time, and override the profile on the controller.
For ARMORX Pro player we recommend you create and edit profiles on the APP.
The on-board storage can only save 3 profiles. The APP can save unlimited profiles and you can apply it to the ARMORX Pro in real time.
About on-board profiles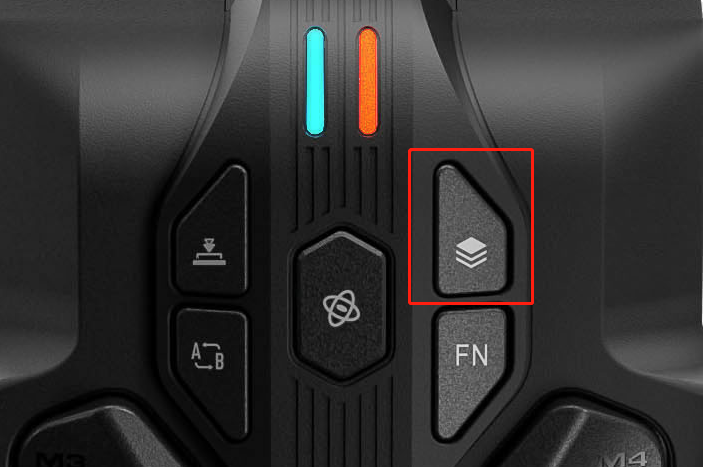 Profile switch button:

 The main part of ARMORX has 5 setting buttons the button with ""words is Profile switch button Button which controls MACRO.
3 on-board profiles

The color of LED1 on the left side shows different profiles: orange, green, and blue.
Factory setting: First profile the LED1 is orange.

What on-board profiles include:

Buttons, MACROs, hair trigger, parameters of trigger, parameters of motion control, parameters of joysticks.

What on-board profiles do not include:

The switch of TURBO, motion control.

All modifications on the controller are only saved in the current profile and will not affect the other profiles.
The steps of setting on-board profiles
Switch on-board profiles:

Click profile switch button once. Each click only switch once.
The LED1 light is orange-red, green, and blue in sequence.

Restore default configuration:

Hold profile switch button  for 3 seconds. The LED1 flashes in its current color.