The way to set MACRO
Recording on controller.
Recording on APP(Only ARMORX pro suport APP)

The APP can not read the MACRO recorded on the controller so for ARMORX player we recommend you record the MACRO on APP.
The APP can save unlimit MACRO.
About MACRO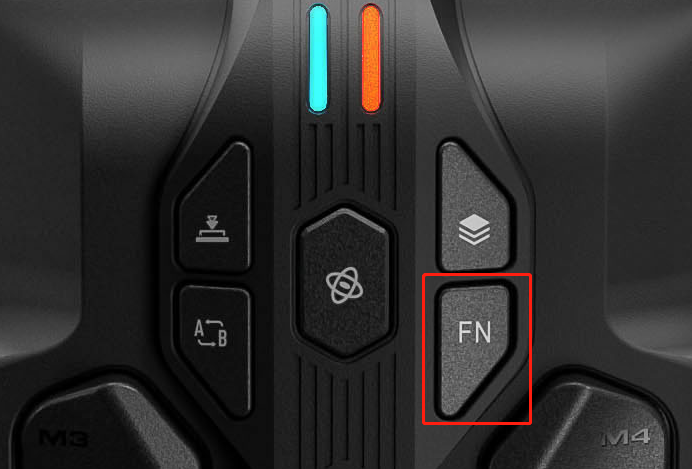 FN(MACRO) Button: The main part of ARMORX has 5 setting buttons the button with "FN" words is FN Button which controls MACRO.
Prepare: Connect to the console successfully.
The buttons support MACRO function: M1/M2/M3/M4.
The key values support be recorded: ABXY,D-pad, LB/RB/LT/RT, joystick, LS/RS.
The MACRO function will clear the key value of back buttons.

Factory setting:

The factory setting of M1/M2/M3/M4 is A/B/D-pad up/D-pad right. Only in the first memory profile and the other two profiles are null.
The steps of recording MACRO on controller
Enter MACRO recording mode:

Press FN button+MACRO trigger button(one of M1-M4).
The LED2 on the right side breathes in red and the MACRO recording mode is on.
One MACRO button can record up to 15 key values(30 frames). The record will end if the key values are full.

End MACRO recording:

Press FN button once to end MACRO recording.
The LED2 on the right side will flash twice.

Execute MACRO:

After recording the macro, pressing the back button to execute the MACRO;
If you press one MACRO button during another MACRO running it will stop the running MACRO and execute the last MACRO.

Clear one button's MACRO:

Hold the back button that you want to clear the MACRO + press twice FN button.
The LED2 on the right side will flash twice in red.

Clear all buttons' MACRO:

Click FN button twice.
The LED2 on the right side will flash twice in red.
The steps of recording MACRO on APP
MACRO recording:

APP recording do not need enter the MACRO recording mode.
Connect to the APP and Enter the MACRO editing interface, add macro buttons and set the interval time on the APP.
Save the MACRO and apply it to the controller.

You can customize and change the MACRO on the fly.